29-08-08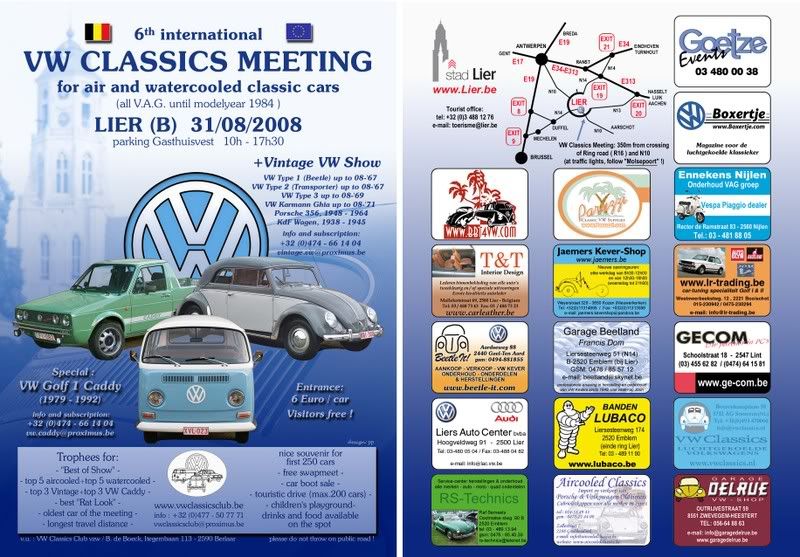 De laatste zondag van augustus (dit jaar meteen ook de allerlaatste dag van de zomervakantie) is Lier weerom de plaats van afspraak voor alle liefhebbers van lucht -en watergekoelde VW klassiekers. De 6de VW Classics Meeting op 31 augustus wordt ongetwijfeld weer een VW-hoogdag.

Vorig jaar nog werden alle records gebroken: met meer dan 550 wagens in totaal, en een veelvoud aan bezoekers was de meeting méér dan geslaagd te noemen. De "Vintage VW Show" deed veel mensen verbaasd opkijken, nog nooit eerder waren er op een Belgische meeting zoveel bril –en ovaalkevers te zien. Met maar liefst 44 vooringeschreven deelnemers was deze meeting-in-a-meeting een mini-uitgave van de befaamde Vintage treffens in Bad Camberg en Hessisch Oldendorf.


28-08-08
24-08-08

Went to the Rockabilly day 2008 in assenede .
it was a lovely meeting , good music , and some verry nice cars and bikes .
And something i was shocked about and never expected
MY FIRTS TROPHY !!!!!!!
23-08-08

also this weekend @ brustem
this weekend !!!
21-08-08
15-08-08
What a nice bus she is .
1965 Factory sunroof standard complete Price: $40,000
1965 Standard with a factory sun roof. Very complete. 1600 SP motor with less then 15,000 miles on it. restoration was completed 4 years ago and this bus lives in my garage and gets driven a couple of times a week.
More on : http://www.thesamba.com/vw/classifieds/detail.php?id=650466