21-10-08
thnx for the support im getting guys .
sorry if it's a bit quiet here the latest time but i promise once i find a new garage i will be flying back in there .
so still no new updates on the bus for now .
06-10-08
It's allmost there , hope i can get the bus ready in time and make my way to brighton .
21-09-08
thnx all !!!!!!!!!!!!!!!!!
sorry there weren't many updates the latest time , but i'm evicted from my garage and need to find her a new place to stay . hope i find one fast .
02-09-08
yall come back now :-D
29-08-08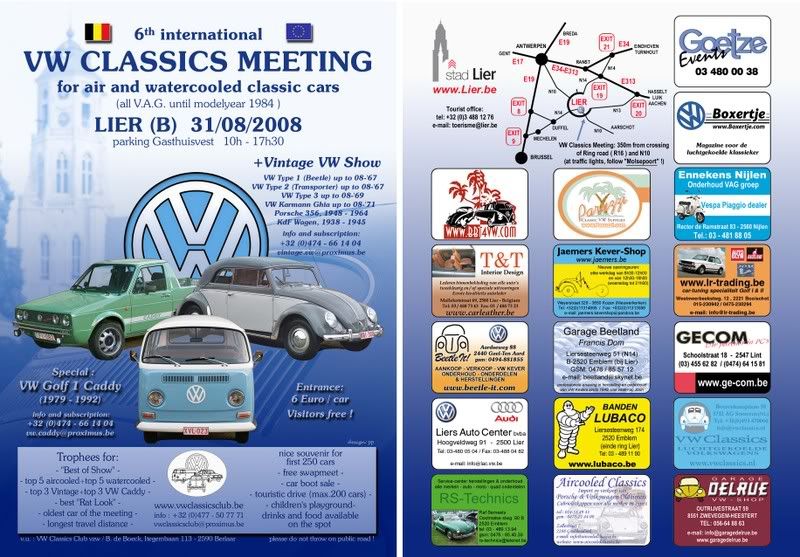 De laatste zondag van augustus (dit jaar meteen ook de allerlaatste dag van de zomervakantie) is Lier weerom de plaats van afspraak voor alle liefhebbers van lucht -en watergekoelde VW klassiekers. De 6de VW Classics Meeting op 31 augustus wordt ongetwijfeld weer een VW-hoogdag.

Vorig jaar nog werden alle records gebroken: met meer dan 550 wagens in totaal, en een veelvoud aan bezoekers was de meeting méér dan geslaagd te noemen. De "Vintage VW Show" deed veel mensen verbaasd opkijken, nog nooit eerder waren er op een Belgische meeting zoveel bril –en ovaalkevers te zien. Met maar liefst 44 vooringeschreven deelnemers was deze meeting-in-a-meeting een mini-uitgave van de befaamde Vintage treffens in Bad Camberg en Hessisch Oldendorf.


28-08-08
24-08-08

Went to the Rockabilly day 2008 in assenede .
it was a lovely meeting , good music , and some verry nice cars and bikes .
And something i was shocked about and never expected
MY FIRTS TROPHY !!!!!!!